In the future, flying motorbikes will become an effective means for Dubai police to approach dangerous areas.
---
According to CNN, one year after impressing at the GITEX Technology Exhibition with Hoverbike, the Dubai white and blue flying motorbike model, Hoversurf, a California-based startup, USA, made a comeback. with the launch of the new 2019 2019 Hoverbike S3 and prove that this electrically powered vertical lift-off vehicle (eVTOL) can actually work. After signing a contract with Dubai in 2017, Hoversurf gave Dubai its first S3 2019 flying motorcycle. Dubai police is currently practicing drills for this modern vehicle.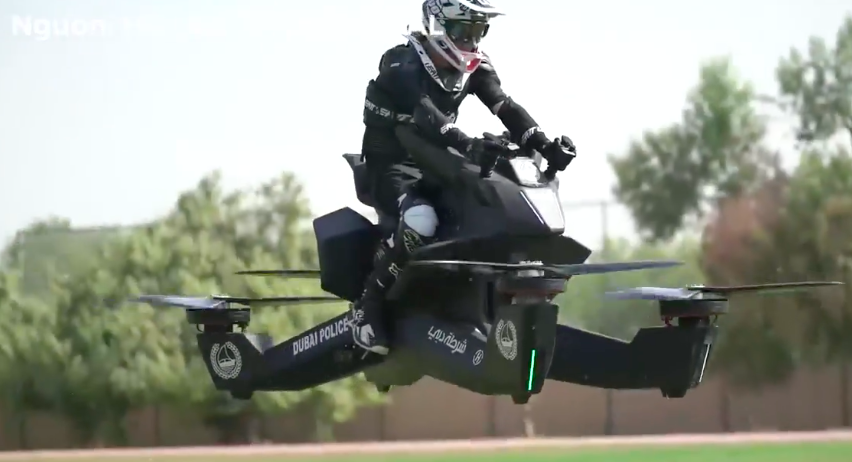 Khalid Nasser Alrazooqi, director-general of the Artificial Intelligence Department of Dubai Police, said the eVTOL model will help police reach areas where ordinary vehicles are difficult to access, in response to emergencies. He aims to put flying motorcycles into service by 2020.
The price of a flying motorbike is about $150,000 and individual customers can also be entitled to buy. However, Hoversurf CEO Joseph Segura-Conn said the buyer screening will be done to ensure buyers are able to use the new technology. In the US, individuals also do not need a driver's license to be eligible to own a flying motorcycle.
Mr. Saitgareev said that the person who initiated the idea was Mr. Alexandr Atamanov – the founder of the company. He wanted to bring the flying motorcycle to life. In all, four flying motorcycle prototypes were built. The final sample, the option with motorcycle on synthesis was shown at the exhibition in Dubai.
The company has received orders from Dubai police and has signed a contract to supply these flying motorcycles. The motorcycle will be used by police in Dubai to patrol the streets.
Saitgareev said the motorcycle battery and the time it takes to use it without charging depends on the weight of the driver. With a driver, the motorcycle can fly within 15-20 minutes, no one – fly half an hour. Maximum altitude is 15 meters, although in Dubai the motorcycle can climb up to 30 meters. However, in densely populated areas, it is not necessary to fly so high, only 5-15 meters is enough.
The vehicle is capable of flying when there is no driver, at that time the motorcycle runs on a sensor chip, according to GPS positioning. In this case, the vehicle flies in a predetermined orbit. In the future, the Russian company plans to build an automatic delivery vehicle.
The company plans to produce mass production vehicles. The basic mission of the company is to develop specific and patented technologies. Once the complete vehicle's patent is fully in hand, third party companies will begin the manufacturing process.