Dubai overwhelms us with its endless goods and wealth here. Seen from the airport to the outside, the roads were flooded with electric light and traffic jam.
---
The city lives at night
After seeing Dubai through the window of the airport, in recent days we have had the opportunity to visit the United Arab Emirates (UAE), of which Dubai is one of the seven UAE states. Islamic country is present as soon as guests step off the plane. At immigration procedures (XNC), the staff wear traditional Muslim costumes, men wear white, wear white scarves, women wear all black and wear black scarves.
Everyone looks beautiful, especially Muslim men, who are big, tall, bearded and groomed. The immigration procedure at the airport is probably the simplest in the world, guests do not need to declare XNC but just present their passport and visa. The procedure staff always showed a friendly smile.
7-star hotel in Dubai
Step outside the airport and meet the desert's hot tunnel. Although it was 22h, the outdoor temperature was still around 35 degrees, but this was a dry heat so it did not cause sweating like at home. Dubai operates at night mainly, to avoid the daytime heat. Supermarkets are open until 24h, many shops open until morning. When the sun came out it was time for everyone to go to sleep, only those who work in the administrative agencies have to get up early to go to work.
Dubai's vitality turned out to be seen only through the airport window. Dubai has no oil field at all, previously here only desert and white sand. The British have built here airports and harbors but the people of Dubai were poor before. Only after Prince Mohammed Bin Rashid al Maktoum ruled the State did Dubai take off. With an open economic policy for foreign goods and human resources, encouraging investment, ensuring the interests of investors. Dubai has become a promising land, a peaceful oasis for all who desire to invest and find jobs.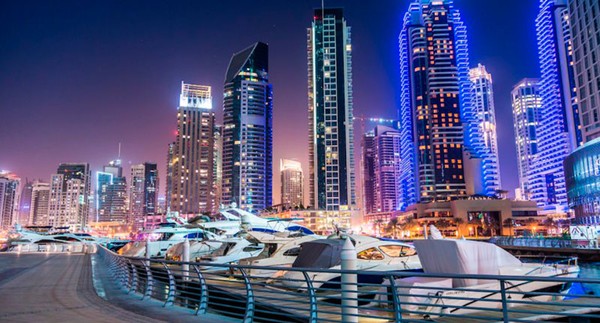 Paradise on the sea and in the desert
Perhaps the only UAE in the world is the number of foreigners working and living larger than the local population. With a population of more than 1 million in the UAE, the number of foreigners living and working here always ranges from 6 to 8 million. Dubai is a great construction site with huge projects being carried out as miraculous stories in a thousand and one nights.